A Most Peculiar Day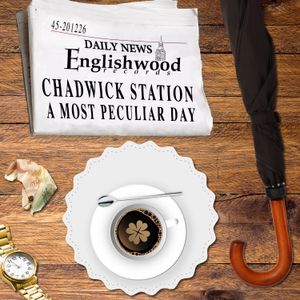 There was a film back in the '60s titled 'What Did You Do in the War, Daddy?' It almost feels like we've been through a war with the COVID-19 pandemic. Many lives have been lost. Many other lives have been upended. We've had no choice. We had to go through it. The question our children and grandchildren might ask us is what did we do in the pandemic? Thank God for healthcare workers. They are the soldiers in this war. They have been asked to do so much. We all appreciate them more than they will ever know.
For the rest of us, we simply had to try and cope; adjust to this new and isolated way of leading our lives. It's not natural for most of us. We crave interaction with other humans. We yearn for normalcy. To that end, Chadwick Station did the only thing they knew to do. They made more music.
The irony of this single, A Most Peculiar Day, is its understatement. It wasn't written for the pandemic, however it does happen to catch that wry, uniquely British way of looking at things. What actually inspired this track is a genre known in the Carolinas of the United States as beach music. When the band recorded Cryin' Ain't Gonna Win Her Back they had no idea they had created a beach music hit. The song skyrocketed to #1 on several beach music charts.
The genre is very similar to what's called Northern Soul in the UK. Lots of horns. A bouncy, contagious beat. The band put their own unique stamp on the genre with A Most Peculiar Day. It's been described as what beach music would sound like if the Beatles did it. Not a bad comparison. 
Like so many of songwriter and lead singer Alvis Kensington's songs, the hook for A Most Peculiar Day came to him while he was sleeping. He bolted out of bed for his studio and recorded the title and the accompanying tune then promptly went back to sleep. It actually took him several weeks before he was completely satisfied with the lyrics, then it was time to hit the studio. Kensington is a big believer in going with what works. He chose to use the TG12345 audio console. This was the console used on the Beatles' Abbey Road album. Kensington figured if it was good enough for that album, it was good enough for this single. The single was then mixed and mastered at Abbey Road Studios.
It's part of a larger body of work in LP form known as Expatriate. The songs on that album range from pop to rock to beach and everything in between. This track is about how different things can look when you find the girl you have your eye on actually knows you exist. It's a fun, enjoyable tune that'll put a smile on your face and make you tap your foot. And after all we've been through, that's saying something.